hi, i bought a beautiful carved wooden animal from Oaxaca mexico that is painted with wonderful designs and I now see that every day there is white powder coming out of it. i now see that there are teeny little holes so it looks like there is some kind of bug in there.  i tried putting it in a plastic bag for a few months to see if i could stop the oxygen but nothing works.  i would love to be able to save this beautiful painted carving.  is there anything i can do that would not destroy the painted finish.  is there anything i should do about the fact that it has been sitting out and i may have infected other areas of the house. any recommendations would be appreciated.
It sounds like you have some kind of wood borer living in the piece and not termites. Borers will produce a powder when emerging; termites will expel droppings that are like pellets and not a powder. As our POWDER POST BEETLE article explains, there are several species of insects which eat wood. Larval stages (little worm like maggots) chew through the wood to get their food requirement. Once this requirement is met, they will pupate to adults and emerge. In most cases, the emerging adults will create a fine talc like powder that will be visible alongside the infested piece of wood. There will also be small exit holes through which this powder came.
There are two treatment options for this problem.
The first would be to inject some FS MP AEROSOL into all the holes you find. This is how furniture which gets infested can be treated and the same approach will work for hand carved wood statues too. If the piece is small, this might do the job both thoroughly and quickly.
If the piece is large, you might get better results drilling some holes on the bottom side and injecting JECTA GEL. Once injected, the gel will permeate throughout the wood and once the wood is completely treated, all the feeding larva will die.
Lastly, if these pieces are unfinished, you could "dunk" them in a BORACARE solution. This would be the "best" treatment option yielding fast, long lasting permanent results.
In all cases there should be no impact on the finish or the piece except the damage caused by the infesting bug.
Here are direct links to the information and products listed above:
Powderpost Beetle Article: http://www.powderpostbeetles.com/powderpost-beetle-control#furniture
And here are the products needed. The FS MP comes with a neat injecting tube so its ready to be applied and is quite easy to use.
The Jecta Gel will require small holes drilled and a caulking gun to apply the gel.

Lastly, the Boracare is mixed 1:1 with water and then applied to unfinished sections of wood. It will readily be absorbed and once in the wood, will protect it for 10-20 years from any wood destroying organism. It won't alter, stain or leave visible residue on the wood either so after its applied, you won't know its there.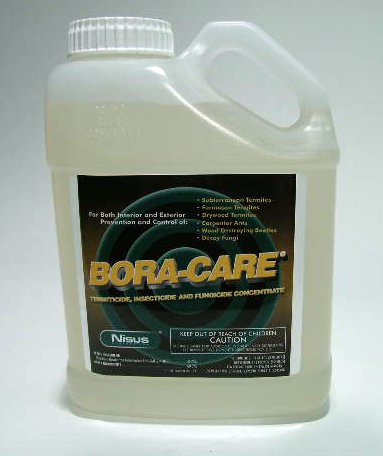 Give us a call if you need more help. Our toll free is 1-800-877-7290 and we're open 9:00 AM to 6:00 PM Mon-Thur; 8:30 AM to 5:00 PM Friday and 9:00 AM to 1:00 PM Saturday, Eastern Standard Time.
Jonathan
Customer Care
http://bugspray.com
1-800-877-7290
PS: Please show your support for our business by purchasing the items we recommend from the links provided. Remember, this is the only way we can stay around and be here to answer your questions and keep our web site up and running. Thanks for your business!